Building Rural Communities Award: Kirrie Connections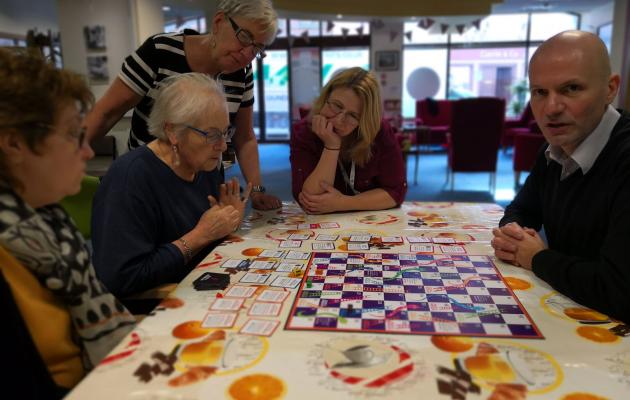 Kirrie Connections provides advice, support and activities to people living with dementia, their families and carers. It runs a community hub open 6 days a week running activities such as arts and crafts to seated exercise sessions and each individual is supported in participating in activities that are meaningful to them.
Kirriemuir is a small rural town at the foot of the Angus Glens in Scotland. Much of this area is very rurally isolated, with little to no public transport.  With an older than average population, there is a higher than average incidence of dementia in the community. Dementia is already an incredibly isolating condition. When it is combined with issues specific to rural locations, such as lack of transport or services, it becomes even more so.
Kirrie Connections will soon be piloting the first Dutch style 'Meeting Centre' in Scotland.  The centres are based on a grassroots community-led version of dementia care, where families and carers are as much a part of the centre as the person living with a dementia.
Environment and Land Use Award: The Mountains and the People project, Outdoor Access Trust for Scotland
A unique landscape project which has two overarching aims; to restore and upgrade 125km of existing upland paths across Scotland's two national parks and an on-going community engagement programme designed to encourage the public to help manage and maintain paths in the future. The five-year scheme seeks to reduce the impact of human activity on the mountains whilst encouraging the public to have a pro-active, engaged relationship in mountain maintenance.
In popular areas paths have become as wide as 40 meters due to large numbers of walkers each year using just a little bit more of the path each trip. The negative impact of this on the park ecology and mountain drainage systems can be substantial. By re-laying paths, replanting turf, and diverting mountain users away from man-made 'short-cuts', natural habitats and highland vegetation will be restored. Over the past three years 24 of the planned paths have been completed.
The project also aims to encourage people to become directly involved in the long-term conversation of the Park's mountain paths. There have been five 6-month vocational training courses in which 36 young people have become accredited in path building. Many of these trainees have gone on to work for path building contractors. The project conversation volunteer programme has worked with over 200 people to help conserve mountain paths in their spare time.
Led by the Outdoor Access Trust for Scotland, this unique conservation partnership project brings together both the Cairngorms and Loch Lomond & The Trossachs National Park Authorities alongside Scottish Natural Heritage, Forestry Commission Scotland and the Heritage Lottery Fund.
Food & Drink Award: Forth Environment Link, Stirling Neighbour Food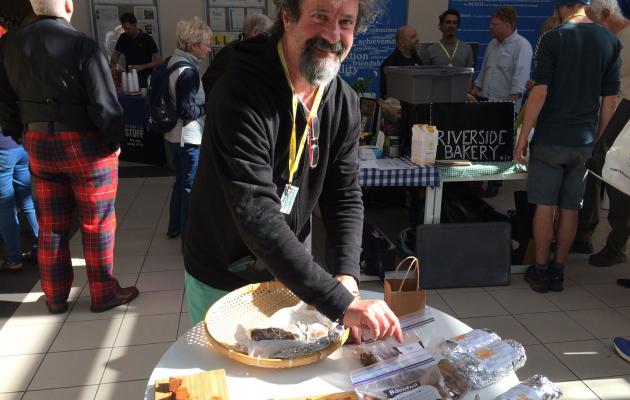 Stirling Food Assembly brings local producers and local communities together by facilitating the purchase of locally grown or locally produced food by local people.  They use an on-line platform which is designed to be easy to use by customers, whilst the 'model' means that local producers keep 80% of all the sales they make (compared to say 20% of what they would make if they sold through a supermarket).
Stirling Food Assembly was set up in 2016 and already has 1900 members with over 4,200 'baskets' sold.  Following the recent cessation of The Food Assembly platform, Stirling Food Assembly became Stirling Neighbour Food.  The buy local ethos of the project has attracted interest from a number of other rural areas.  With the help of LEADER funding Forth Environment Link are now rolling it out across a number of rural communities in Perth & Kinross, Fife, Scottish Borders, Stirling and Clackmannanshire.
The rural innovation lies in the way it brings communities together while supporting local agriculture and rural food producers.  The community leads the project with the purpose of connecting people better with the seasons, their local food producers and their environment, thus appreciating the real value of food and helping to prevent food waste.
Transport & Infrastructure Award: Balquhidder Community Broadband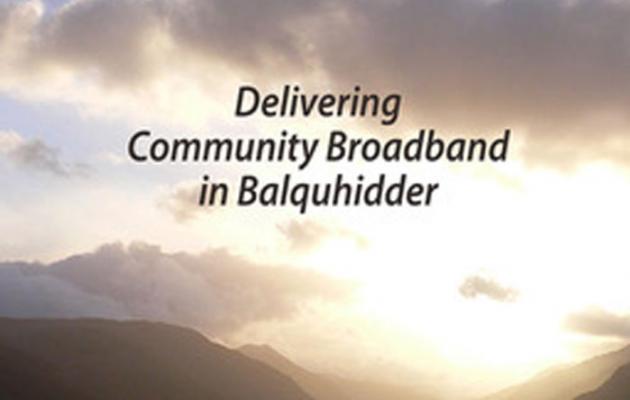 Approximately 250 people live in the glen including about 35 school aged children. There is also a significant number of business operating in the area all who require fast internet.  The need to address the problem of poor or non-existent broadband was identified by the community in 2007. A sub-group of the Community Council was set up to campaign for a solution.
In 2015 the community formed Balquhidder Community Broadband CIC in order to build a community network. The physical build commenced in 2017 with a plan to lay around 35km of fibre across the rugged rural terrain, providing ultrafast broadband to almost 200 properties. In order to achieve this the community relied on local volunteers to dig trenches for the cables, encountering stone strewn soil, boulders, tree roots and other obstacles along the way. They also laid the fibre along fences and placed around 6km of cable in the waters of Loch Voil to minimise the amount of digging needed.
Progress has been incremental and depended on availability of volunteers and materials but to date 25/32 km of core fibre has been laid with 60 premises already connected and the remainder scheduled for connection at the end of 2018. The publicity that the project has received has resulted in people now choosing to move to Balquhidder, a local developer who has struggled for years to sell his plots has recently sold four because of the location and world-class fibre broadband in the area.  The economic uplift model created by the community for the project suggests an annual trading uplift of €1M.
Youth Award: Brechin HealthWatch
The HealthWatch project was conceived by the pupils at the Brechin High School in response to the changes in local health services. These changes included a reduced family planning service and the stopping of the child and adolescent mental health service by Angus Counselling.
The students identified that the community should be consulted about health services provision. They designed a questionnaire to audit the views of pupils about access to local health services, carried out dummy patient phone-calls to the practice and they consulted with local groups.  Their research evidenced that people faced several barriers in accessing health services, particularly young people.
Thereafter the group has focussed on mental health issues and have carried out an audit to establish the prevalence of mental health problems in the pupil and the staff communities.  They are planning a Health and Wellbeing Day and numerous other events to raise the profile of mental health issues. The pupils plan to become MH First Aiders and to use a Chameleon model to allow students and staff to decorate the model to reflect how they feel on the day.